I recently got a hold of another BMX pioneer and former Racer Mel Stoutsenberger. He is most famous for the picture taken of him at Western Sports A Rama and is quite the photographer with some incredible BMX and non-BMX pictures(This is the same picture taken from a different angle by the Red Baron)
tags: the mel thread, Rick's bike shopand one taken by Rick Twomey at "the wash" in Simi
(pic property Rick Twomey)This cat has a whole lot of history behind him as well as a lot of pictures.Here's a sampling of what he had to say:
Quote
I remember meeting Johnny and Doug (on their hack no less) at the Friday night races at Corral Beach. This family of BMX enthusiasts put together at fun little track under the oak trees for summertime racing. Mostly beach locals from the area came to the races so I don't know who the others are in this shot although the guy with glasses looks like Bob Endy - not sure. They had an announcer that had a great sense of humor and cracked jokes all night long – It was a blast! Then they moved the whole operation to a Encinal Canyon hilltop and had some serious racing events including a high speed, downhill, all-classes opener and an annual Bicycle and motorcycle two day grand prix. More and more teams started showing up from the bay area and the valley. They gave away prizes for the top racers and even had purse awards for best overall. I found out later that that same family had put together a rock band called the "Surf Punks"…I know you've heard of those guys…Same dudes!
He also sent some great pictures to share.The infamous Thom Lund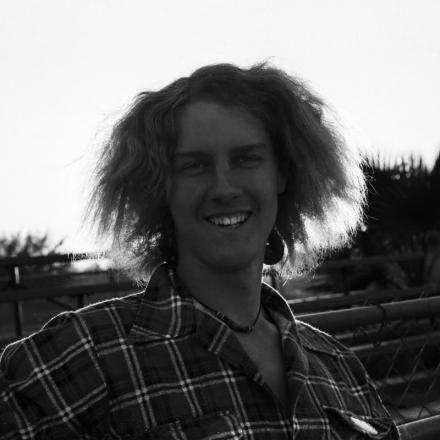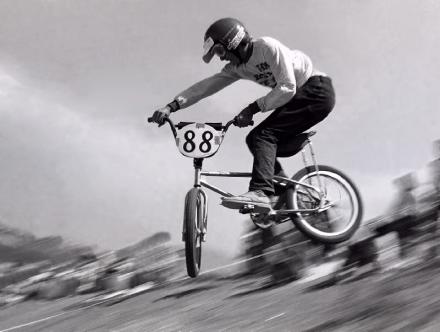 Marvin Church and Bobby Encinas
Some additional info:
Quote
One of the first races I ever competed in was at the Indian Dunes with the CCC (Canoga Cycle Center) team. But there was another single event that year that we all raced at Palms Park. It was promoted by Cycle Products West motorcycle shop, owner Al Wertzle. Another early one if you didn't have that data already. I'm just throwing it out there.I promoted three races of my own very early on that had many of the locals all racing together. The third race had over 75 entries including (you'll love this) John George, Butch Baum, Kenny Zhart, Ronnie Haase, Earle Essen, Wayne Cataldi, Bill Ford, Paul Garcia, just to name a few.
and this amazing picture: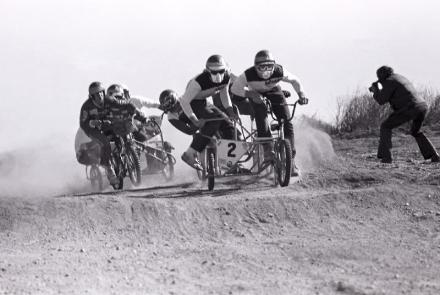 That one puts a tear in my eye.(All pics property of Mel Stoutsenberger, including the ones from Flicker so please do not distribute or link them without his permission. He's sharing some history with us, please respect his wishes)