For our first interview since evolving into the BMX Society, it is my distinct pleasure to present the profile of a very important BMX personage and an all around good guy. A man who should require no introduction, but since as kids we often just tore into new issues of our favorite BMX magazines, focusing only on the content and sometimes not even noticing the creators of what we were taking in - still deserves that introduction. Despite his marquee position, Andy somehow always seemed to remain unassuming and down to earth. None the less, we must acknowledge that this is a person whose contributions to the sport and indeed in a very real sense - to the way we perceived and experienced BMX during the peak years of 80's Freestyle cannot be underestimated. So let's be clear... this cat is one of THE most important names in BMX journalism - and that too from the pre-internet era when the magazines were ALL. The age when it can truly be said that the glossy pages not only presented, but definitely also shaped BMX culture. I am of course talking about one third of the legendary Wizard publishing trifecta of: Jenks, Lew & Spike, the ABA's 1980 Wyoming District No.2, Freestylin' Magazine's Editor, MX'er, Skater, zine publishing maven, influential artist, thoughtful husband and rad dad - Mr. Andy Jenkins.

Download the entire interview here:
The BMX Society's ANDY JENKINS INTERVIEW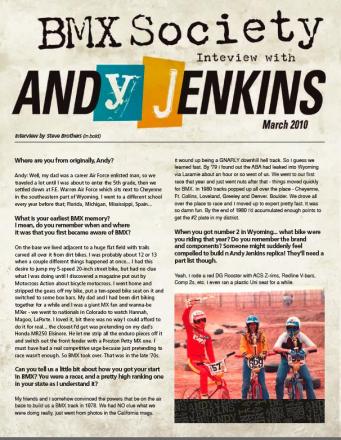 I usually put up separate pages in jpg format when we release interviews because I know some people are too lazy to download a pdf... but the layout of this interview is itself a tribute to Freestylin', Club Homeboy and similar Andy Jenkins projects, so I'm gonna make it available in spread layout PDF only for the time being.
My sincere gratitude to BMX Society art director Matt Hanemann (chromey) and of course to Andy himself for his time and patience with the interview process. Your contributions are what has made this good and worthwhile.