I wanted to start a photo-based topic to see what it looks like where people ride and show off some of the cool things I see on my rides. I ride my mountain bike daily to work from Bushwick Brooklyn to Chelsea in Manhattan. On the weekends and on some evenings I ride my bmx bikes all over Brooklyn and Manhattan, sometimes into Queens and occasionally into Jersey City and Hoboken. I'm in this hobby because I
love
riding bikes. Don't get me wrong, obviously I like to geek out about parts, history, and all that comes with this old bmx thing, but really those are kind of secondary loves for me. I've always enjoyed the big rides more than any show. When I'm not commuting, I almost always have a camera with me. I started taking my camera to take photos of garbage to use in my paintings. Then I just started taking photos of cool stuff I see on my rides.
Where do you ride? Take some pictures and show us!
Here are the bikes I take on these rides. A 2007 Kappa K24 and a 1985 JMC 24. Both get an equal amount of road time. I love cruisers, they're comfy for the long rides I like to take. I took this shot in Greenpoint Brooklyn on a rare time that I had them out together. A friend came over to visit and we went for a ride.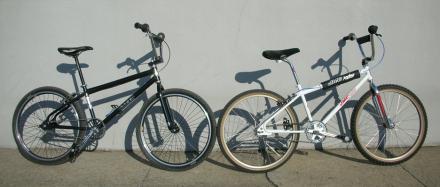 First, I have a regular default destination when I feel like going for a nice easy ride. It's a spot behind a warehouse on the East River in Greenpoint Brooklyn. It's probably a bit over two miles from my apartment. It's kind of desolate, it's gritty, there's lots of litter and usually at least one or two other people around, but not much more. It has a great view of the Manhattan skyline. I like to ride to it, sit on the Jersey barrier on the edge of the shore and just relax for a bit while looking at the skyline. Sometimes Geese swim around in the water, sometimes a water plane will land and take off again. Here's what it looks like. I didn't realize I didn't have any great pics of this great spot until I started this thread. I promise to try to catch some nicer shots.
Looking north: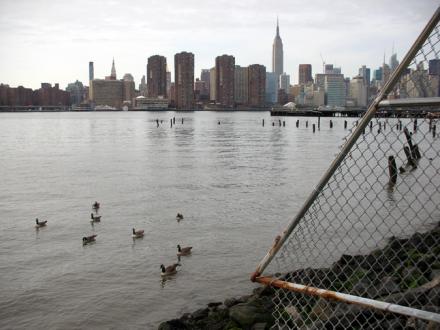 Looking south, that's the Williamsburg bridge: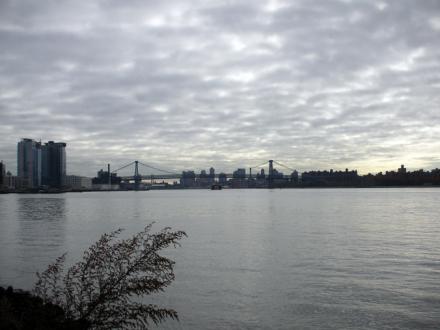 Along the way to my regular stop this past Sunday, I saw this nicely painted van and had to get a shot: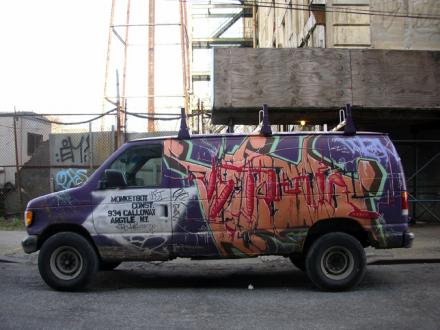 This past Sunday was Easter. I stopped by my little spot on the river on my ride and found this guy rummaging around looking for food. I promptly named him the Easter Rat.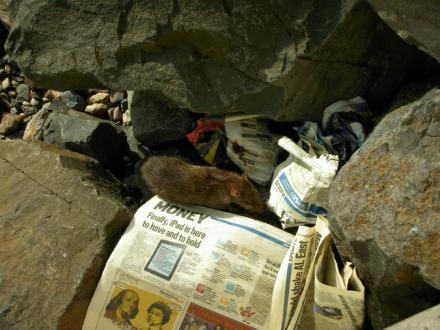 After watching the Easter Rat for a bit I headed over the Williamsburg Bridge, into Manhattan, down (under) the FDR drive and back over the Manhattan Bridge to Brooklyn. On the ramp coming off the bridge I saw a regular summer sight, a motorcycle club of some sort. This time it was of the less common off road variety.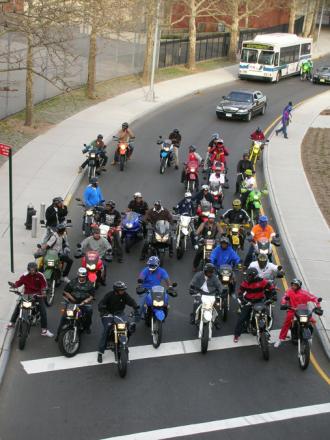 This I like. I'm not a huge fan of graffiti, but anything that makes me think, I like. I don't know what exactly the message is here, but I like it: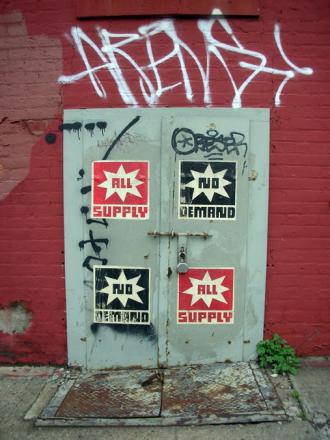 Then I road up into Vinegar Hill. It's a strange isolated place in Brooklyn that seems almost untouched by time. Cool old buildings, brick streets and all kinds of cool details not found anywhere else in the city.
Here is a large house that I thought looked like it might belong to one of the Corleons: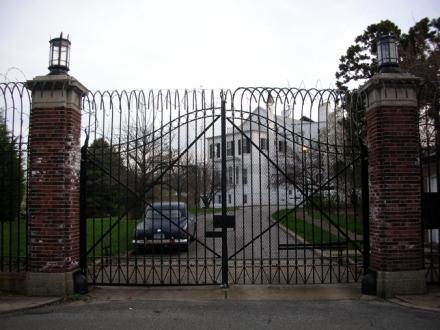 Next, perhaps the best example of patina I've ever seen. I wanted to throw my bike in the back of this Chevy and drive it home so bad. Good thing there was not a for sale sign in the window, or you'd probably see most of my bike stuff up on ebay right now.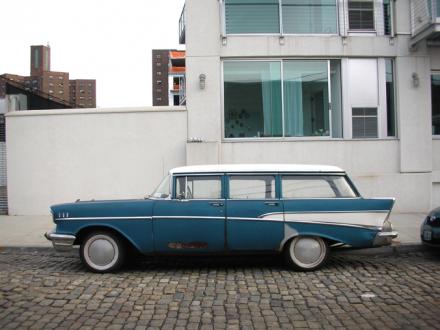 The sun was starting to set, so I decided to head home. I rode up Flushing Ave past the Navy Yards. There is a stretch of Flushing Ave with a bunch of old run down, over grown buildings. Big, beautiful buildings. I don't know what their story is, I assume they are on city or government property. It's not a bad part of town, but for some reason these buildings sit totally abandoned and neglected. Whatever the case, they are usually almost totally obscured by foliage, but since it's spring and the leaves have not started, I got a good view for once. Here are two of the buildings. I'd love to go explore these grounds, if only I knew I wouldn't get busted for trespassing.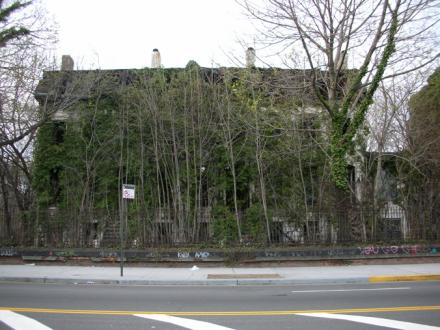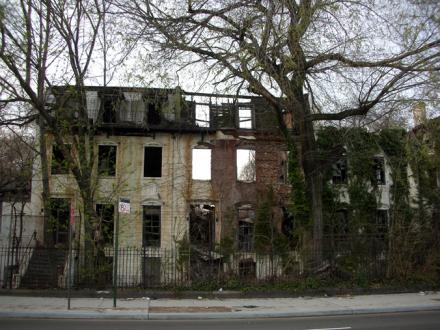 So that's it for right now. I'll add pics of other cool stuff I find on my rides, and I want you to do the same! Show me what you see on your rides.