You have seen many of his sick mid-school rigs and if you were at any of the BMX Society/OS-BMX events he is the
perennial favorite to win the mid-school class. Stephen is a walking encyclopedia of BMX and in particular early mid-school and a tremendously nice guy. So get your favorite beverage, sit back and enjoy the BMX Society Interview of Stephen Arndt.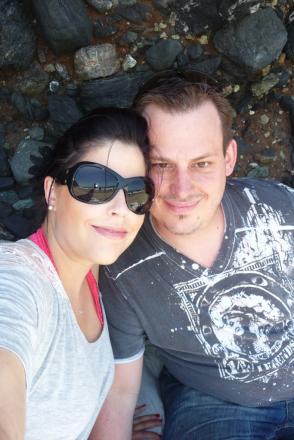 BMX Society: Let the record show that your full name is:
SA: Stephen Arndt
BMX Society: City and State of Residence:
SA: I currently reside in the State of Insanity..lol...ok… Scottsdale, Arizona
BMX Society: Occupation:
SA:
Lounge Manager at a Resort
BMX Society: Paypal Login and password (lol)
SA: Why are you going to send me your Reynolds? Thanks pal!
BMX Society:
What is the background on your screen name?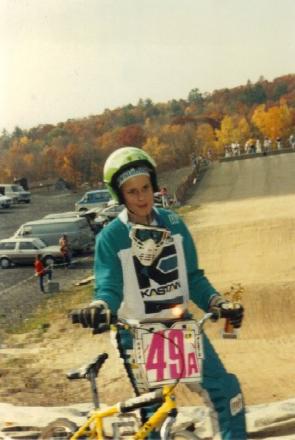 SA: It is my old number when I raced in the NBL. They took the last two digits of your membership number and the first letter of your last name. It's funny when I got it I hated the number because it had no meaning to me, but now it has come full circle. I wanted my screen name to have something to do with my past and figured what better way.
BMX Society: Please tell the BMX Society audience your BMX history or your involvement in said culture from your first experience until now.
SA: I first started getting into bikes at a young age because of my older brother. He taught me how to ride, and I spent most of my younger years trying to keep up with him. When I was eight I got my first real higher end BMX bike, I had saved up and bought a late 70's early 80's Mongoose (gusset style) with Tuff 2's that was listed in the local paper. The next year my brother and I both raced for our first times at our local track which was the Middletown NBL track. I placed second at my first race and I was instantly hooked. Soon after this we built a small BMX track in our backyard to practice on. My large size was a major advantage on the track and I continued to do very well. Later that same season I raced my first national, again placing second. The next year our racing unfortunately came to a screeching halt when the track closed due to a lawsuit from a rider being injured.
Freestyle was becoming extremely popular and this filled the void of racing for me for the next few years. I first started with flatland and later got into riding ramps after I built asmall quarter pipe with my Dad. Two years later after working the entire summer I would then built a half pipe and once again my backyard became the local playground for the local riders and at times skaters.
In the late 80's I learned about the Kingston NBL track from my cousins and I quickly took up racing again. The track was started by some of the parents who were racing at Middletown track in the past and it kind of became a family event. Both my Mom and my Aunt both started helping at registration, and my uncle eventually became a corner marshal. Down the road when we were traveling more my Dad would always come to the races as he got to know some of the other families better. In '91 I joined Kastan's National Team and raced for them until '92 when I cracked my frame and decided to quit the team. While on the team I received 6th in '91 and 7th in '92 for the New York State Series. I also earned State High points champion at the end of '92. I then started to pull away from racing as many of us did with driving and girls until I graduated high school in '94. After graduation I moved to Chicago on a restaurant project and then had to have double knee surgery six weeks later, which kept me from getting back into riding for many years.
Over my early years of riding having gone through a lot of bikes, I accumulated a large collection of used parts. Fortunately I kept a lot of parts that were very important to me but I did sell a lot of my extra stuff after my knee surgeries.
I first learned about
Old School collecting while reading an article in Bmx Plus at the grocery store. They ran an article in the late 90's and I quickly learned some of my parts still were rather sought after and the seed was planted. Some familiar names were mentioned including Darren Chan

.
It wasn't until '06 that I started purchasing items and truly started collecting. I did a search for Cycle Crafton Ebay. I luckily found exactly the frame I was looking for an early 90's XLX frame. I won the auction and finally had the frame to go with my Dirt Legz forks that I used to race on. Soon after this I did a search on the internet for Cycle Craft and I stumbled onto Vintage BMX. People were discussing the frame I had won and they were trying to find out who had gotten it. As I learned more about the hobby I quickly joined most of the collecting sites including OS-BMX. The next year I started holding Old School events at a local bike shop here in the Phoenix area called Kore Bikes. The owner Ryan and I became extremely good friends and I continue to hold events there. The shop has a lot of history and it amazes me how many former and current pros call Kore home.
My first major bike show was the Os-BMX Del Corando Show which absolutely blew my mind. I had met a few pros over the years of riding both in freestyle and BMX but the amount of bikes and the experience still to this day puts chills down my spine. Much to my surprise I placed first place in Mid School category with a new build that I unveiled at the show. I would continue the tradition of rolling out a new build every year for the show each year and I have been extremely fortunate to win the MidSchool category two more additional times.
My main focus these days besides collecting is mountain bikes. In '99 I started doing cross country and eventually started riding more aggressive trails. In '07 I started riding downhill and entered my first downhill race the next season. I entered sportclass and placed second place.
BMX Society:
You still ride a little park too correct?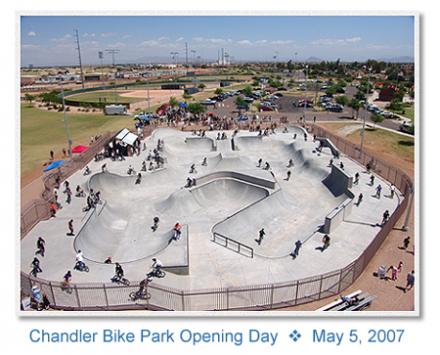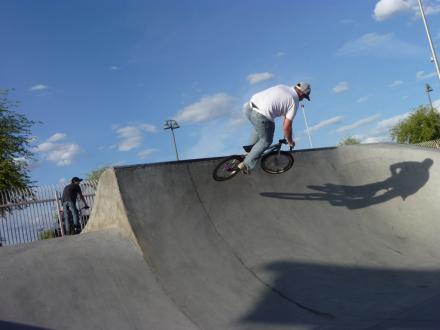 SA: Yeah I do, I am very fortunate to live pretty close to the Chandler bike park. It is amazing,its like Disneyland for bikes! A lot of people in the local scene here fought very long and hard to get a bike park. After an ugly long fight, the city of Chandler stepped up and built the first of the parks in the area. Now we have a few around the Valley.
BMX Society:
Almost true to the Mid-School tradition you segued into the MTB scene, do you find it more challenging than todays BMX scene? What is the appeal to you? Is that BMW your current MTB race rig, thing is so dope? Tell us a little more about your MTB collection, whatchu got mang?
SA: I have always loved trail riding and exploring my whole life. I am kind of drawn to nature and the wilderness. When I was younger I used my 20" as a lot of kids did to ride everywhere I could. One year in the late 80's while on vacation with my family near Boston I got to ride my first high end mountain bike. I absolutely loved it. I could ride aggressively still and the extra gears made getting up and down hills a lot more fun. I always wanted to buy a nice mountain bike but the cost always put it out of my reach while I was younger and racing BMX..
The modern mountain bikes I have allow me to do a lot of the things I always wished I could do on a bike. Modern suspension technology makes riding the more aggressive terrain possible even for an old guy with bad knees like myself. It took me a long time to get used to riding with suspension, but now its hard for me to ride a bike without it.
Arizona has some of the most rocky hardcore riding in the country. We are truly blessed to have these trails in our back yards. Fox Racing Shox comes to some of the same trails we ride to test their shocks. Actually a number of companies come out here to test their bikes and products.
I currently have two bikes in my mountain bike collection and I just built a bike for my fiancé, Aileen. We are going to build a pump track in our backyard soon and she is really excited about it. Fortunately I haven't been bitten by the MTB collecting bug but I do have an appreciation for the high end older stuff.
My Brooklyn Machine Works is actually my urban/park/pump track bike. I set it up with a heavy modern BMX influence and went for an extremely strong but light weight build. I haven't raced it at the BMX track yet but I have taken it to practice. The bike is incredible. Super light weight really stiff and handles like a dream. It amazes me that a bike that is that size and weighs 24 and a half pounds is that stiff.
My second bike is a Turner Highline which is my downhill bike and was the bike that I did my first downhill race on. I choose an Auburn inspired paint scheme for this with an Anti freeze green over a metallic base with a polished rear. It is built up with tons of gold anodized parts and of course quite a bit of black. It is a pretty obnoxious color choice but as the saying goes"Green for the money and gold for the honeys!!" The bike has 8" inches on suspension front and rear and is tricked out with tons of extremely high end parts.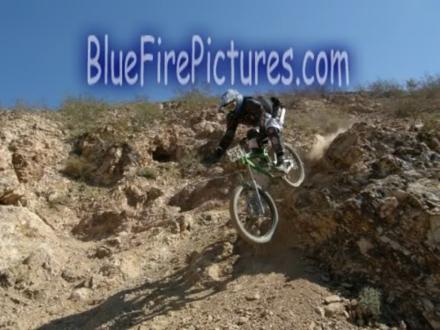 BMX Society:
How many different race bikes did you have growing up, give us a run down and which were your faves?
SA:
Mongoose(gusset style) (my first true pride and joy)
Mongoose Supergoose (gusset style) (we had trouble getting my Quadangle frame and this was my brother's old frame)
Se Quadangle 531 Reynolds (My first ground up custom build)-Graphite tuffs, 401's Hutch pedals and the list goes on! (Freestyle first with a hard core race build later)
Kastan Pro Stretch (I loved this bike and how it looked. I did feel the Uni Blade made the front end too
light but still an awesome bike)
Ÿ
Elf Double Cross Pro XL (One of the best jumping bikes I have owned. Uber stiff rear end that fit me so well at the time)
Ÿ
TNT Longfellow (Speed jumping machine! Long strong and down to get the friction on!!)
My Faves would be my Quadangle, and TNT Longfellow. Both were amazing bikes that worked so well for me.
BMX Society:
Speak on your Freestyle Bikes.
SA:
In addition to my Quadangle I had the following:
Mcs Styler 1stGen. This was my brother's bike he gave me when he went to college. It was a wild build with Graphite Tuffs, 401's, Flying Wedge Bars.
85 Haro Master
88 Haro Team Sport custom build. This was built just like the BMX Plus Ultimate Freestyler build with only a few slight differences.
BMX Society:
So how many bikes are in your collection and what are they?
SA: Be Back in a second I have to go count.
Currently I have 7 bikes that are complete. One of which is a new Mtb for my lady.
BMX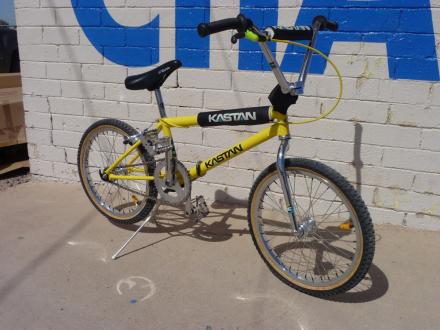 '91 Kastan Pro Kex Stretch,
Awards: 2010 1st place Mid School Bellflower and 2010 BMX Society B.O.T.Y. Best Mid School 20"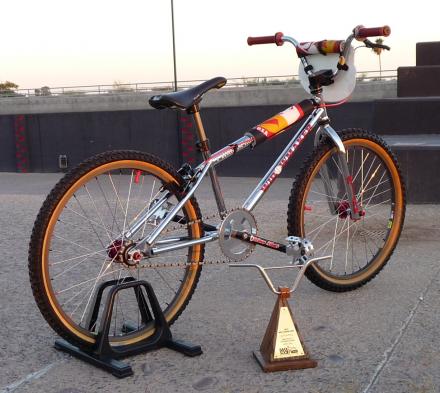 '93 S&M Widowmaker Cruiser (pre gusset)
Awards: 2011 1st place Mid School Bellflower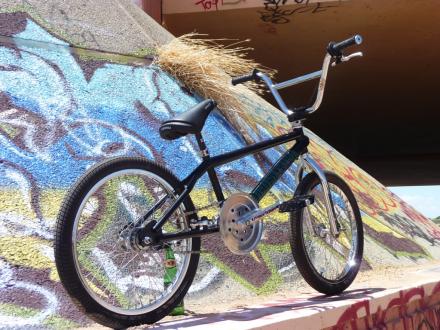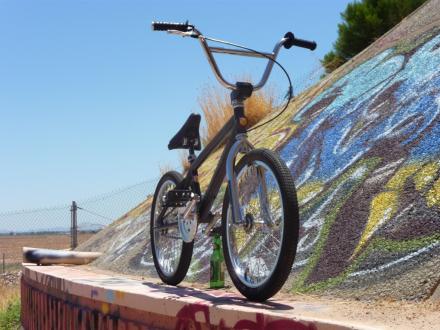 '94 S&M Menstrual Cycle
Awards: 2008 1st place Mid School Del Coranado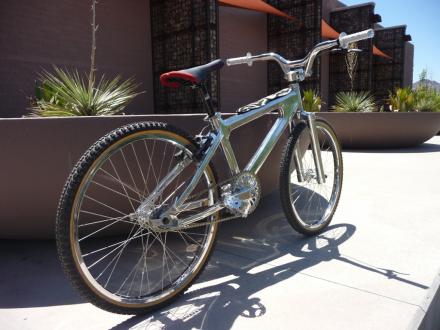 '98 Technique Pro Cruiser 2nd gen
Awards: 2007 OS-B.M.X. B.O.T.Y. Best Mid School Cruiser
Mtb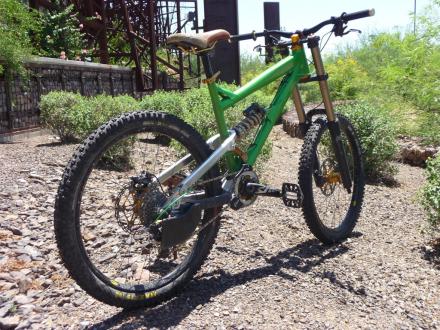 '08 Turner Highline(large)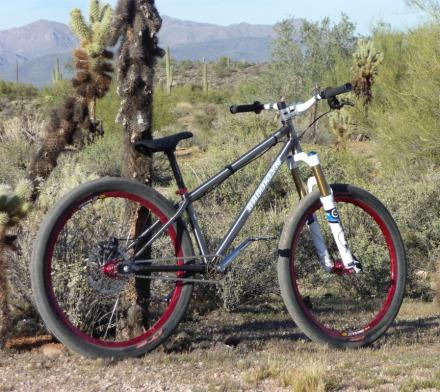 '10 Brooklyn Machine Works Big Ben V2 (large)
BMX Society:
I think you are known in the mid-school circles of having meticulously built rigs. Not overbuilt, or unrealistic, proper bikes that might have been next to someone at the gate. Seriously, folks who come to Bellflower and compete in the Mid-school class need to know what they are in for. Take us through your "process", selection to the final product.
SA: Besides lots of drinking? I first start with a frame and fork that makes a statement and I have some sort of connection with. I always gravitated towards interesting and rare parts that were very well made so I stick to what I love for my builds. I also studied fine arts in college so balance, continuity, color balance and flow are extremely important to me. I have always loved extremely bold looks and I know I can take it too far. By learning your weaknesses it only makes you stronger and it can help keep yourself in check. I also have a few very trusted people that I bounce ideas off of to help hone in my final choices on my bikes. From there it is a lot of searching and patience to find the parts I am looking for. I won't settle for anything I won't be happy with so if it takes longer or cost a little extra I do everything I can to make it happen. Attention to detail is what can really take a build to the next level so I make sure everything is just how I want it.
BMX Society:
Do you have a favorite in your stable, one that you just stare at every time you pass it? I am not sure I could pick just one. I would steal….errr pick the Technique Cruiser or the Kastan Pro Stretch.
SA: That is like asking me to choose which of my children I like the best. That is a tough question for me. The Technique in my opinion is by far one of the prettiest bikes ever made and yes every time I pass it I look at it. It is almost like a sculpture to me. I am not usually drawn to bikes that are from the later partof Mid School like this one but it was the one threadless BMX bike I just hadto have. My Widowmaker is also tough not to choose but if I have to pick a favorite it would be my Kastan. I have such a connection to the bike because of my past, I knew one day I would want to recreate that bike and I am so glad I had so many of the parts. In my eyes every piece on the bike is perfect. Even my parents-especially my Mom-were blown away when they saw it done. It not only took me back to my days of racing for Kastan but it did the same for her. It looks exactly the same as it did when I first built it.
BMX Society:
I have been of the opinion 75% of mid-school rigs built by collectors today are soulless. They just seem to be exercises in how much anodizing and how many uber rare parts they can throw on a bike. Nothing you would have seen much of at the track. It is almost the same thing oldschool collectors were doing 3 or 4 years ago. What is your take? Who are the collectors Mid or otherwise you think are doing it right?
SA: I would have to agree totally agree. A lot of people gather up some rare parts and some parts they think look cool on the internet, then they force them onto a bike often using anodizing as the theme that ties the bike together. It often creates an eye soar that is more like a freak of nature than anything else. This mistake often goes along with over polishing parts until they have no character and powder coating every part of a bike. It is something a lot of people do in the beginning stages of building. Mid School collecting is still in somewhat of its infancy and over time this will not become the norm. It is a shame because Mid School is an era that was about character and breaking out of the corporate mold that had been created by every ad agency that jumped on the BMX/Freestyle in the 80's. Unfortunately way too many people just miss the boat.
I think another common pitfall is some people also try to have too many projects going on at one time. Often it causes people to loose focus or cut corners on their builds. There are few people who can pull off a lot of builds all at onetime. Larock (William) would be the one person in my honest opinion who continues to defy this logic. It amazes me that every other week he seems to roll out yet another old school survivor build that blows a lot of minds including mine.
My Favorite builders, that's a tough one. I wonder how many friendships this question ends for me LOL!! While thereare many builders I respect I want to focus on the Mid School era. Some name that quickly come to mind and have been doing this as long as I can remember are Jacob (Kcmo), Jake (Spur), and Ryan Patridge. In addition there are also certain builds and builders that really have captured the soul of Mid School with their builds. Ross's (Rad Ross) Mad Dog that he just finished quickly comes to my mind for this. This bike really captures the vibe of the early street scene movement that really helped create Mid School what it has become. Brent (AZ-01) also did a great job with his '94 TNT Longfellow. This bike reminds me a lot of my old TNT and scream east coast racer! S&M Ben has also caught my attention for some time and he continues to put out some excellent bikes. His Mad Dog tribute bike and his Widowmaker are both really well done. Another builder I would like to mention would be Monocoque Mike. Mike is someone that really showcases the later part of Mid School very well and just continues to turn up some amazing treasures.
I also find it extremely impressive when someone builds a bike that is outside their normal era and the bikes come out so well. Tom's (Keep it Warm) S&M Menstrual Cycle is probably the perfect example of this. Tom did an amazing job with this build and the amount of research he did was truly amazing.
BMX Society:
What are some projects you would like to do? Is there one that you could do and just be done with it, collection complete?
SA: Besides finishing a few of my bikes I have been working on for sometime I would like to rebuild my SE Quadangle in its freestyle role. That was such a wild bike and to have built it a young age still blows my mind. I may or may not ever do that build but it has crossed my mind many times.
I am not sure if I will never be done building but it is getting tougher because I am running out of bikes I really want to build. In my past I had said a Widowmaker would be the bike that I could the collection complete but I am not done. At this point the only other bike besides recreating my Quadangle that could come close to being my last build would be an original Dirt Bro's (Skyway Ta Xl). I have always loved how raw early street style bikes were and this bike is the epitome of that to me. I loved them back in the day and how rare they are only adds to the lure for me.
BMX Society:
Let's break a bike down by part and list your favorites, you have 60 seconds……Go!
SA:
Frameset

Tnt Long Fellow
Forks

Cycle Craft Dirt Legz
Handlebar

S&M Slams first gen
Stem

S&M Redneck
Grips

Ati Pistol with Jive Nuts
Brake lever

Dia Compe SS-5
Headset

Tange Lp-125
Headset lock

VG
Seat

Selle Italia Turbo-perforated for her pleasure
Seat post

SST Comand Post
Seat post clamp

Tnt
Pedals

Gt Big Man Elites first gen
Crankset

Redline 401 Flights
Bottom Bracket

Crupi BB with Ti spindle
Chain

Acme Roller Bearing
Chainwheel/sprocket

S&S Tigertooth first gen
Freewheel

Suntour 3/32 Chrome
Rims

ArayaSuper 7x
Hubs Tnt Revolvers 2nd Gen
Spokes

: Dt Double Butted Chrome
Tires

Tioga Comp 3
Brake

Acs Boa
Brake cable

Odyssey Linear Slic
Brake pads

Scott Mathauser Super Brake pads
Padset

Rad Accessory Iron Cross Pads
Number plate

Ugp Recession
Numbers

Ugp first gen
Hardware

Bitchin Bolts, Vg Spur Tensioners

,
BMX Society:
Thanks for taking the time and letting the Society pick your brain Stephen, anything you want to add?
SA: I wanted to thank everyone at BMX Society and of course a huge thank you to you Jake. I truly was flattered when you asked me and it was great to walk down memory lane with you. I also wanted to thank my family for all of the support over the years. Without them none of this would have been possible.