1975 Matthews TR-1.
Gimme a T!
This Matthews TR-1 bike has been in my possession for almost10 years. I picked it up through one of my local bike shops. I stashed this bike away all those years ago because back then I did not know how I was going to approach its restoration. Now remember this was a point in our hobby where the emphasis was more on restoration by refinishing instead of restoration by preservation of an original finish. But the fact that this bike had its original frame stickers intact and was missing very few parts had me wadded up for years on how to bring this bike back from its extremely rusty state of existence. This does not mean that it managed to make it all these years unscathed. I committed a small sin against it myself while it was stored away under my care.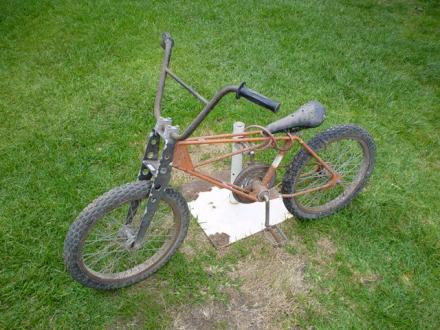 Not long after I picked this bike up I started working on my Matthews monoshock build up. The monoshock was just a frame and fork when I got it and needed everything to put it together and I do mean everything. So I "borrowed" the handlebar double clamps from the TR-1 for the mono. I found another set to replace them later on but the damage was done I had cleaned and polished those clamps up by hand (fortunately) for the monoshock bike. The original clamps are now bolted back on the TR-1 with new hardware and the replacement clamps are stored away with the mono. (I used stainless clamp hardware on the monoshock.)
The TR-1 was missing its original "pizza slice" Messenger MX-1 seat and brace. I was able to acquire the correct Messenger seat and brace in a parts swap with phillyc71 back around 2009. So when it finally came time after years of prodding by some of the members here (You know who you are.) I made up my mind this last October on what to do. What I decided was to take the bike apart get it clean and remove as much rust as possible. But also preserve as much of the peeling paint at the same time. I completely disassembled the bike and cleaned up the painted parts first with a 50/50 mix of Simple Green and water in a spray bottle. Then I waxed everything possible. For the rusty chrome I made up a citric acid bath. The wheels were completely taken apart,the rims went into the C.A. bath spokes and nipples were cleaned with #0000 steel wool by hand. The hubs were cleaned by hand then lubed and serviced.After that the wheel sets were reassembled with all the original parts. The wheels came out great, pitted chrome and all. I was able to clean up and reuse all the parts that came on the bike except for the chain guard, (It was too far gone.) and the damaged parts I listed below.
All parts are original to the bike when I found it, except for the following 4 items which are direct replacement items of original missing or damaged parts. All the replacement parts listed are in used condition unless otherwise noted.
1. Messenger MX-1seat and seat brace.
2. Bolt nut and washer hardware for the original double clamps.
3. A single Hunt Wilde grip (right side only.)
4. Bottom ball bearing race for headset. (New.)
1975 Matthews TR-1
Matthews TR-1 frame.
Matthews fork & steer tube.
Matthews / Wald headset.
Matthews double clamps (integrated to fork.)
Matthews bars.
Hunt Wilde grips.
ACS front hub (Date code 1975)
Shimano "Coaster Brake" rear hub
Araya 20 x 2.125 steel rims chrome.
Spokes .105 front .120 rear.
Cheng Shin C-183 20 x 2.125 knobbies front and rear
Cheng Shin inner tubes.
Messenger MX-1 seat and seat brace.
Wald seat post.
Wald seat post clamp.
Cranks one piece 5.5 inch 24tpi (Unknown brand made in USA.)
Takagi three arrows sprocket 44t.
Wald pedals.
Wald bottom bracket set.
Enjoy.