hello all.
this is the july 1983 gt pro that i was conflicted on using the og down tube decal on. i ended up using the decal after having it stored for over five years. i tend to ponder things awhile.
the frame and fork are original chrome and still had the og nora cup decals on the steer tube and the seat tube. i put an original "coin" decal on the head tube and last night i placed the og down tube decal on the frame. i'm still looking for a set of real fork decals. PLEASE contact me if you can help.
the bars are og chrome "nelson chanady" bars and the seatpost is all og too.
i have it built with an original set of gt tires that were mine from childhood. (i try to use an original piece from my childhood parts on all my bikes) and the tuffs are real aluminum flange as well. i have a pair of super clean blue araya 7x i'm going to lace to a pair of sunshine sealed hubs in blue/silver. i like the mags but i'm a "spokes" guy.
this bike is really similar to a gt i had as a kid that was stolen. same cranks, bars, seat, pedals, post, neck etc...
my next dilemma on this build is whether or not to open this og "santa ana" bar pad or to wait for a stem and bar pad to surface that is "clean used".
anyhow here it is:
the nos bar pad and decal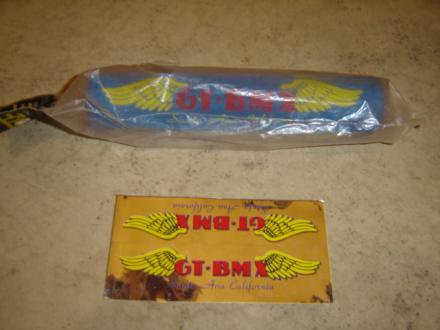 the bike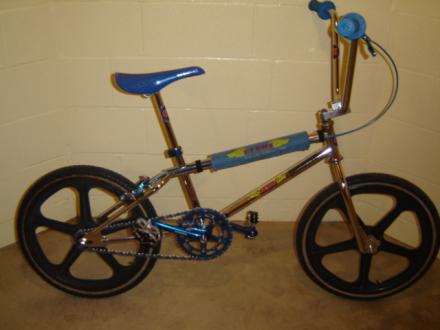 sugino gt cranks
another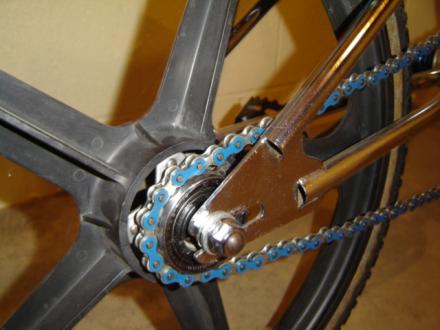 side view