It is that time again, and let me tell you, it's a good one. RipVanWinkle is his screen name but from the stories he has shared on this site there is no way this cat has slept through this life. I was fortunate enough to have a little question and answer session with Ron. I am sure you won't find a cooler and more honest interview. So get comfy, get a cold beverage, and enjoy the BMX Society Interview of Ron Clark!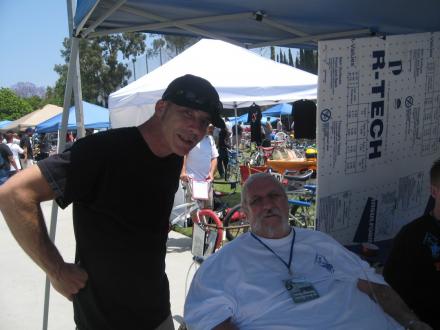 BMX Society: Let us get down to the personal stuff;full name, age, birth place, current place of residence, family, and all that stuff nosy members like myself want to know.
RC: Ron Dean Clark Jr. My old friends and family call me Ronnie, the cops and authorities use Ronald, but most people call me RC.
I was born at UCLA Medical Center, Los Angeles California. I want to believe that I look like I'm 30, but I'm 50 and feeling like 60 inside. I've been married to my wife Ann for 14 years. We have 3 boys; Aaron 10, Trace 12, and Mike 14.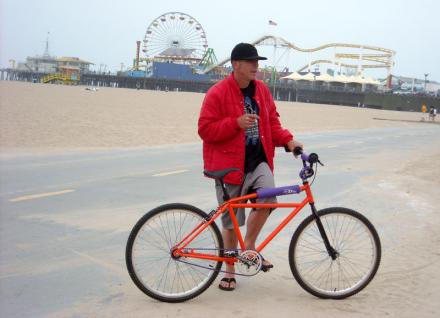 BMX Society: It is never asked or talked because it can be a sore subject with our significant others. I assume because it is too painful to share on the forums. But what does your wife think of your passion for all things BMX? Have your sons been bitten by the BMX bug?
RC:
My wife knew exactly what I was like and my past. She lets me do my thing and I let her do what she wants... within reason and consideration for the family. I taught her to snowboard and she's pretty good. I also bought her a skateboard back in 1981, but she can't skate well. She had an antique shop bitd, so she's no stranger to collecting. We keep our money separate, I pay the mortgage and take care of health coverage, and she pays the utilities, food, and clothes for the kids. This might be odd to some, but it really cuts down on the money arguments or concern for what the other person is spending money on.

Sadly my kids haven't shown any real interest in BMX or skateboarding. They've got a stack of decks in the garage and a skate park just down the street, but have shown no interest. My oldest son, Mike rides his Road Kill and has a single speed that I built for him. It's just transportation to get to school or a friends house to play video games. He snowboards, but it doesn't seem to be high on his attention span list. I'm just here to put as many things in front of them as possible and to see what sticks. I'm confident they'll find things they like, do well and excel at. On a side note my wife's sister married a big-time Minnesota Gopher hockey player... and their oldest kid is smoking dope and trying to re-live my story.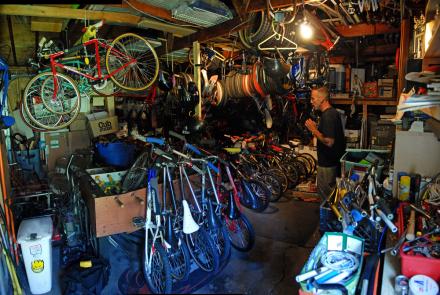 BMX Society: Screen names usually have a story or a personal connection. RipVanWinkle, just a name or is there a story behind why you chose it?
RC: Just me trying to be clever. I knew people would shorten it to Rip, and the story of Rip Van Winkle asleep for 20 years, returning... fits well with my story telling nature. I used the same name on my Punk Rock message board for the past 11 years, along with RC, 7734, Archiver,and ArmlessSkateboarder.
BMX Society: ArmlessSkateboarder, HA! I dig that. Speaking of Punk Rock, you were pretty immersed in that scene for a while as a profession correct?
RC: I was into prog rock while living in Ventura, CA.until about 1978-79. When I moved to Minnesota with a couple of friends in 1979, we met Lori Barbero. She turned us on to the downtown new wave punk clubs and social scene. She also got me a job bar-tending under age at the Longhorn bar where she was working as a cocktail waitress. This is where I met and became friends with Husker Du. They were playing Tiger Nite, a free to get in event with free beer and tacos for the first hour. Most of the locals didn't care much for Husker Du in the beginning. Homesick for California, I moved back to Ventura all jazzed and ready to share my new wave/punk attitude. I moved in with a crazy Danish family and hooked up with my old pal Scott who had gone Hardcore. He was going on and on about the new west coast hardcore scene. He took us to Hollywood to see the Circle Jerks, and up to Santa Barbara to see Black Flag play for a group of 15 kids!

I was hooked on hardcore! The Danish family imploded and I went straight back to Minneapolis to share the good word. I started hanging out with Bob Mould who was also charged up on the same stuff. We wanted to put a fanzine together and we called it Oi Gavalt. Bob did the first interview with MDC and taught me the basics of putting a fanzine together. I did all the art and layout, etc. By the time the first issue was ready, Bob was too busy with Husker Du to continue to work on the mag. My roommate and fellow Californian Peter Davis jumped in and took Bob's spot. The Magazine cover and name was changed to Your Flesh before we gave away the first 50 issues at a show. Flipside was going at the time, but Maximum RnR had just released their very first issue. Peter booked all the early hardcore shows and found a venue named Goofy's to call our own.
I did the fanzine with Peter for about 8 issues, and started to manage a band called Final Conflict. Eventually I got sick of the whole thing and Peter and I were not getting along. We were both shooting coke, living together, working together, going to shows together, etc. It almost came to blows when I told him he could have the mag and I was done. To Peters credit, he made the magazine what it was and continued on for years. He also formed Creature Booking and kept many bands on the road touring. It was Peter who walked in bands to AmRep like; Helmet, Supernova, Nashville Pussy and others.
I continued to work as a manager at the local downtown record store "Northern Lights". I moved in with Noel Morgan the singer for Final Conflict. We were both getting into electronic music. Noel had purchased a synthesizer and drum machine. I started to screw around with the gear and was hooked. I started buying my own gear and was getting into computers. I also started a label and released 3 compilations of local electronic artists under the name Audiocon Release. Noel and I did a band called Chuck Wagon, that sucked. Later I started my own group called Lies Incorporated, that sucked.


Eventually I got burnt out on the electronic music and sold all my gear and started listening to hardcore, metal, and anything non-dance or electronic. I took an alternative marketing job at Ryko Records distribution, but hated it and quit. The next day I got a call from Tom Hazelmyer asking if I would like a general manager job working at Amphetamine Reptile Records. I took the job in a second, not even asking what it paid. I went to work and set up an Apple Mac network, built a custom database to handle everything we did, network modem and network printer.
Tim Mac had the studio in the basement where bands were given an opportunity to record in-house for less or they were free to record elsewhere. Tom did all the graphic design work for the artists or, like recording they were free to go elsewhere. I did all the print advertising and pre-flighted Tom's work. I hired additional staff, got everybody on healthcare and handled all the liaison work between AmRep and Atlantic Records... Tom hated dealing with them.
We were a well tuned machine kicking out t-shirts, lighters, records, posters, tours, radio, etc. Then it all came to ahead, Supernova never really took off or got the support from Atlantic. All of our energy and focus on the Cows being our in house number 1 band just didn't seem to get them over the top? Tom had enough of the whole giant ugly label beast. Atlantic released him and let him keep his catalog, but he was burnt and collapsed the label down to a trickle. He started to open up a few bars around town called Grumpy's, opened an art gallery called OX-OP which he also released a number of Asian vinyl collector toys.
Through these years I was fortunate enough to be able to meet all kinds of great people and see some amazing shows. I also did my part in organizing events, working for distributors, doing graphic designs, flyer and cover art. Nothing as a profession and never for much money if any at all.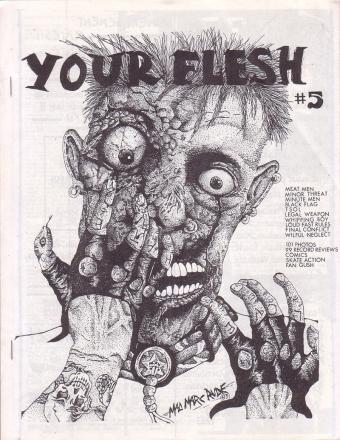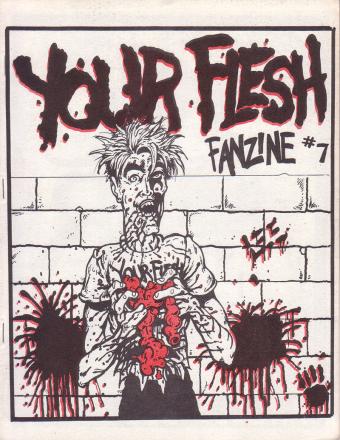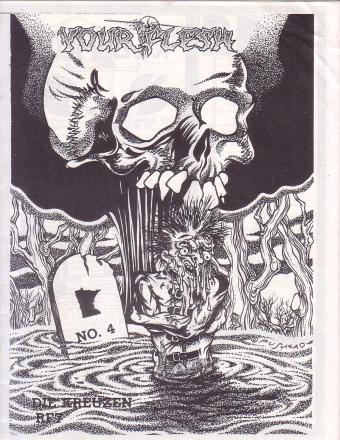 BMX Society: What, when and where was your first BMX experience?
RC: It was late 1971 – 1972. In 1970 I was living in Van Nuys. My stepfather was into dune buggies, boat racing, motocross,and sports. We spent every weekend going to boat races and motocross races up and down southern California. He bought me a Honda QA50 for Christmas and started taking me to Indian Dunes, Newhall, and Muntz. We also did a ton of camping and I would take the cycle unless I was grounded. After I got the hang of the QA, the old man traded it in for a Suzuki TS-90. During this time I knew nothing about BMX, I had my old man modify my Schwinn Sting Ray into a chopper by welding on additional metal slats to the fork. I also cut the round top sissy-bar and pinched it into a point to look bad ass.

I remember riding my bike trying to do wheelies with the new extended fork, I wasn't paying attention and rode right into a 4 way stop from a blind spot. I was hit by a car that I never saw. My femur was completely broke and I spent the next 3 months in the hospital and another 3 months in a body cast and crutches. The week before we moved from Van Nuys to Granada Hills, my dad took us to see On Any Sunday. The opening scene is what did it for me.
As we moved into our new neighborhood I noticed a bunch of guys working on their bikes in a garage just down the street from our new house. These guys [Pizuti Brothers] were modifying their bikes into moto bikes. I begged my dad to weld a crossbar on my bars, and removed the extended fork. I bought some knobby tires and Donkey Dick grips, switched the seat and sissy bar to a ten speed style. I had an oval plate and crossbar pad that I bought at the Newhall swap meet. I rode my new creation down to the Pizzuti's house for approval, and to hang out listening to Sabbath, smoking weed, and wrapping wire around my spokes.
Every morning we would toss our bikes over the fence, making our way down the golf course and then to a creek that ran all the way to our school. People would meet up at the creek and wait for others to show up before taking off in a group. You had 2 options for getting to school on your bike. One was the creek trails and jumps, while the other option was taking the sewer all the way up to school. Just below Robert Frost Junior High School was a double vacant lot with a step down jump. This is where all the BMX riders would merge and line up one by one to show what you had before school. There must have been about 25 to 30 kids lined up against the fence at any given time.
After school we would grab our bikes and have a race down the fire roads. This road would end up at a motocross track that we used as our track too. It was pretty common to have a mix of cycles and bikes on the same roads and tracks.
This was about the time I heard rumors of Malibu's naked colony track and Friday bike races being held at the Dunes. Over the next months we would live on our bikes, hanging out in the creek, making jumps, hitting the street and grinding out steep hills and steeper descents. Granada Hills was not only in the middle of Chatsworth Park, Simi Valley and Sylmar... it was also a perfect training area for downhill BMX.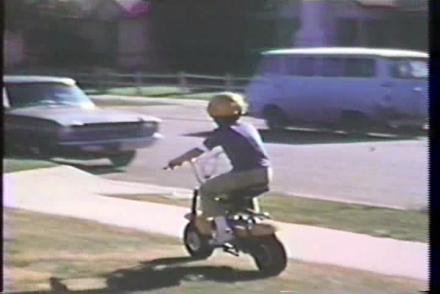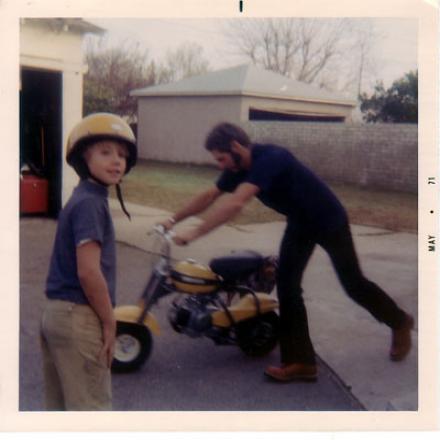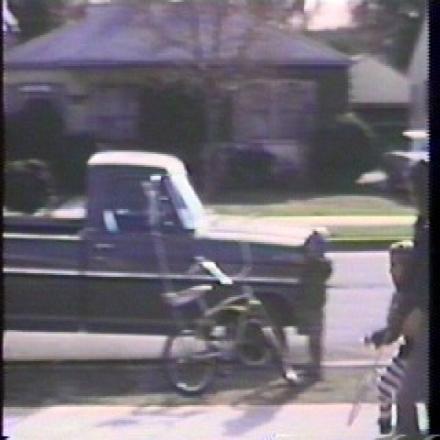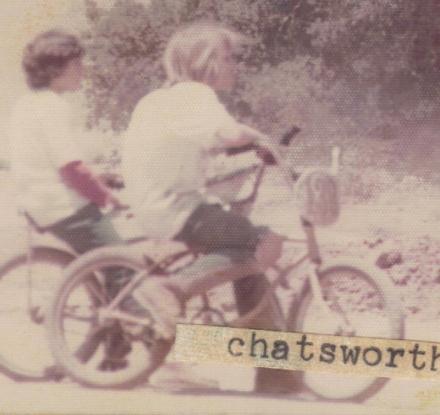 BMX Society: I am envious. As a youngster you had speedboats, dirt bikes and BMX while having parents who encouraged participation in it. Since I am conducting this interview, and having a little bit of an interest in speed boats, speak on some of the boats your step-father had.
RC: My mom was always pushing me out there to try new things. When she married my stepfather, I was at the perfect age where I needed a dad. He was a perfect dad, 6' 2", bad ass, man's man kind of guy. He was living with a bunch of his buddies and had a flat bottom called "The Mellow Yellow", jet with not much of an engine. His brother had a flat bottom with a Hemi and the pipes that would eat you alive if you were sitting in back. His second boat the "Liquor Box" wasn't anything that built up either, but his pals without kids had the range of pickle forked hydros, Hondo, Campbell... it's been a long time, hard to remember all the brands, names, etc.
Anyway, my mom made him buy a 24' Spectra Day Cruiser because he had 4 anchors to haul around. We would hit the circle races where big and small boats like; Mrs. Budweiser, etc. We also hit Long Beach for boat drags on a regular basis. I think we went to the semi-finals event, and I also remember being present on shore the day Ray Caselli flipped The Panic Mouse and died, he was one of my favorites, boat, not the first racer I watched die. Brutal sport. The cool thing about those days were the open access to the pits, you could walk right up and check it all out. I had another favorite that must have been called the Trojan. The driver had one of those Roman helmet tops on his helmet. I love dragsters and drag boats, but it has been a million years since I've been to a race. I've always had a love for custom stuff, high end racing, etc.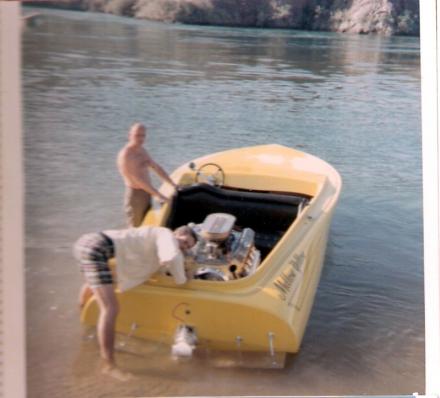 BMX Society: You also were around when BMX was in its infancy, how long were you into the scene before you moved on to other things?
RC: My BMX career is shorter than my junk. ;) While I was lucky enough to be Johnny on the perfect spot and time...I only raced 4 or 5 times. My first race was at Soledad Sands for the first NBA races, went back again only once. Then I got busted by a cop who told me he was putting on the first races at Chatsworth Park. So I raced a few times at Chatsworth and then found myself with no way to get around to more races. Jeff dropped out after the first Chatsworth race and I had to ride my bike to my last race. I continued to hear about more races, Sylmar track, etc., but I just quit with nobody else from Granada Hills willing to go. I hit the drugs more, rode my cycle in the hills and then my parents got divorced and my bike hit the curb. More trouble with the cops, probation and shipped off to Minneapolis to live with the grandparents.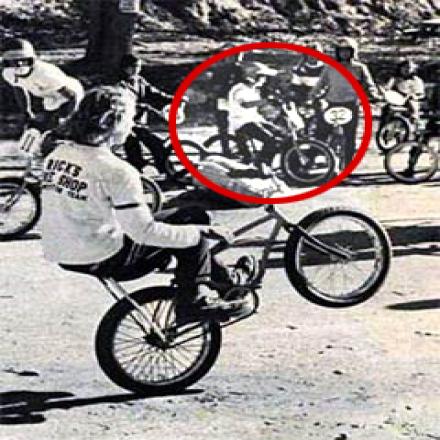 BMX Society: Minnesota is the antithesis of SoCal,which had to be a huge shift in paradigm for you.
RC: Man, when I was younger it was really tough. I was the only kid in school with long hair, an axe part, and always smelling like weed. I kept to myself except for a couple of other stoners that I had met in retard math class. When I came back with my pals from Ventura, it was much better. We were doing absolutely nothing in Ventura, and when we moved to Minneapolis everything clicked; cheap city apartment living, no need for transportation, easy to find work, able to drink and get into clubs at 18, beautiful women. Not to mention that we landed right in the middle of Minneapolis at the start of a very cool period in music history.
I feel super lucky for being in SoCal during the 60's-70's, and Minnesota through the 80's-90's. My biggest bitch about Minnesota is the short humid Summers and mosquitoes, topped off with very little in the way of geography. The Winters suck and when it hits the sub temps and turns gray for weeks... it can feel like a dying mining town. Snowboarding has helped me make it through in the past, but it gets pretty old going up and down short runs of ice packed ice in -30 weather.
I've got about 3 more years here and then we're off to Austin, TX. The wife refuses to move to California and she'll be making the big dollars when she completes school. I've been there a couple times and really like it, it gets me closer to California and puts me only a few hours from a coast line. Snowboard turns into a dirtbike.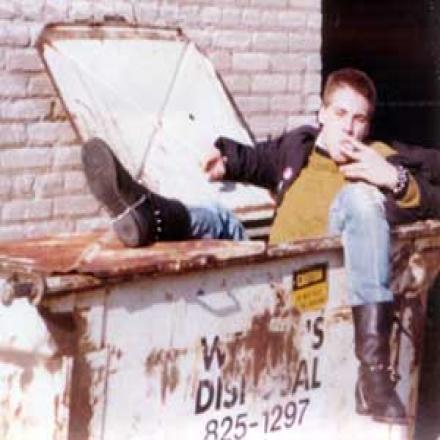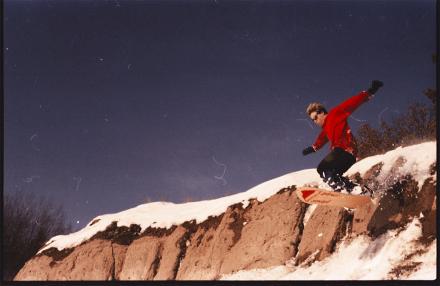 BMX Society: You have a pretty wide range of bikesin your collection. Give us a rundown of the bikes you currently have.



RC: I have a copy of my original bike. A couple oldschool Schwinn 70's moto builds. I have a fake Webco cruiser made by Emory that I absolutely will not get rid of../too much history. I have a 1979 DG that I bought from a punk rock pal who raced in Florida. DB Pacer, 1979 DB Pro Large,1978 MCS Spider, 1979? Panda Supercross, 2 Race Inc, Kabuki, Kuwahara Nova, Schwinn Predator 20 & 24, MonoShock, Roger D, 2 Mongoose, Brackens Junior, my kids bikes, and my rider aRobinson 24. All stuff that I've found via CL, garage sales, trades, thriftstores, etc. Paid a fair price for my Mono and my Robinson 24.



BMX Society: I assume the Webco is one of your favorites and you mention the history. What is the story behind it?

I was still fresh to collecting and knew even less than I do now. All my stuff came from CL, sales, thrift stores etc. I was watching CL with a news reader and was getting the jump on most the stuff listed. The second the seller posted "Webco Cruiser $50"... I had called and was on my way. Didn't know what to look for, didn't know that much about full Webco history, but it was near me and $50! When I got there the guy was waiting with the bike Webco decals on the frame and fork. I immediately asked "How do you know it's a Webco?" He pointed to the bridge in back stamped WEBCO and I smiled, handed him the $50 and loaded up my gem. I immediately came back to the site to get schooled by both Ricks.
Short story behind the bike is that Emory bought out the scraps and rights from WEBCO, to my knowledge there have only been 2 found. My used complete with the WEBCO stamped bridge, and a NOS f/f that popped up last year with the box. The owner got the frame from the Emory owners. The NOS frame is stamped Emory on the bridge. Rick Twomey had been in contact with the Emory people and knew about a stamping tool made with WEBCOEMORY on it.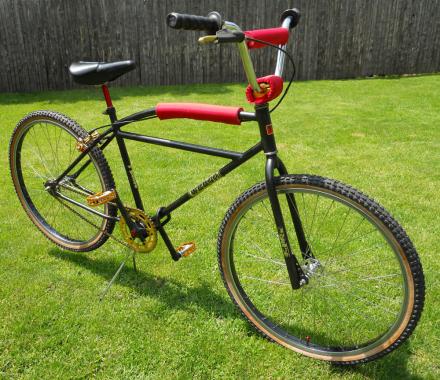 BMX Society: You also mention a copy of your original bike; give us the details on that. What other bikes did you have growing up?
RC: After the t-bone accident and the move to Granada Hills, the old man cut off the fork extensions, I used a 10 speed seat and dropped it all the way down out of the way. Most of the guys around me were still using banana seats. It was much easier to do one hand coasters down the hill with a banana seat, but I didn't dig having the seat in my way. The Pizutti brothers had scrounged up smaller junior bars that I dug right off the bat, I found some Wald or Schwinn junior butterfly bars and had the old man weld a crossbar lower than what you see now. Not sure why he placed it so low?
Only a couple guys ran motocross bars, they just weren't practical. I bought Schwinn tractor tires, fat on front and back. I used Donkey Dicks, A. Because they were called Donkey Dicks. B. The heavy round ends took the abuse and the grips were softer than most of the stuff out there.I taped the bar for the throttle sized I/D grip and later switched out or stole another smaller I/D grip. I'm pretty proud of my original setup and how close it is to a current BMX setup.
Other bikes? I have picture of me with some 3 wheel thing when I was like 2. My grandfather taught me and my sisters all how to ride on 3 little Schwinn bikes from the late 50's, 60's? They bought the mused out of the classified section. My grandfather ran along behind me holding the seat and then let go without telling me. That was all it took, soon me and my sisters were found by the cops pedaling 5 miles from the grandparent's house.
So, Schwinn Sting Ray, then one of those early 70's Hercules 3 speeds that looked like a 10 Speed. When I was shipped back to Minnesota in the mid 70's I purchased a Viscount or Bridgestone road bike that I brought back to California and crashed on a stretch of freeway. During the 80's punk years I still watched all the BMX stuff around me and would go out to the tracks to shoot photos.
I was into classic balloon tire collector bikes, but I built a 26" cruiser out of an old frame, Laguna fork, Tuf stem, Oakley grips, and KKT Lightning pedals. The bike was stolen within 1 day of building it. I picked up a mountain bike in '85. Late 90's I was stoked about Downhill Mountain Biking, it looked like the perfect transition for an old BMX kid. Minnesota had only one resort that would run a lift in the Summer. The place was 2 hours away and when they stopped running the lifts, I sold my bike. I wanted an Intense Uzi?, but most of the stuff I liked was $4,000 that I didn't have. Now I ride my Robinson 24"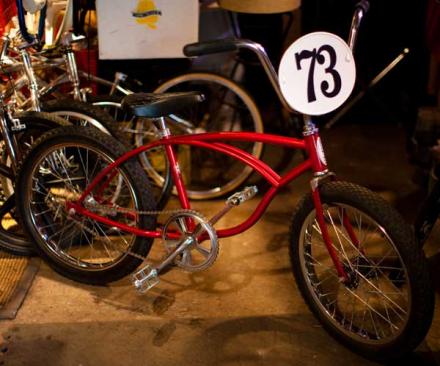 BMX Society: What other bikes in your garage do you favor?
RC: I have a Free Agent that I really love. It's not a Limo, it's the smaller model but it was the last bike displayed in the only Minneapolis all BMX bike shop before it closed... named oddly enough Twin City BMX. I like the history, I love the feel of the bike, I feel like it's my best build. I went with a sealed bb single crank, and used a set of Arayas with DK sealed hubs.
BMX Society: What are the bikes on your "Must Find"list?
RC:
Something newer Monocoque 24",triple fork, all the berries!? Like I would find something like this on CL.
BMX Society: I think that is a must find on my ownlist as well. That brings me to one of the impressions I have about you. You seem to have an appreciation for all things and eras of BMX, not just some limited view.
RC: I'm glad that comes through. I think most of the guys here appreciate a range of stuff, but many hold to their point in time or what they rode, had, etc. Since I only had a simple Sting Ray, how could I not love the complete evolution of bikes and the sport. If something is cool, it's cool. It's crazy for me to think about the roots and how far the bikes and riders have come. I'm amazed by it all, and as I grow older I'm finding myself trying new stuff along with a greater appreciation for just about everything; art, music, bikes, friends, people, and always family.
BMX Society: There are so many tremendous builders and collectors who call the Society home. Who are some of your favorites?
RC: Yay! Finally I get to talk about somebody other then myself. I'll do my best here, but I would sure hate to leave anybody out. Top of my head: AGULAR3. Everything he does is amazing, from his bikes, cars, other hobbies, to the type of dad he is. Larock has been killing it lately, 3rdgear's stuff is always bad ass, Juan's collection was wild, monocoquemike's stuff is amazing. Dewabo, suicyco, Reilly1, Mel and Sodbuster, these guys are me, my time, blood by proxy. Their old school is the best. Don't want to forget about the Red Barron with the same quality and the archive to die for. Plus I love sidehacks so I dig what the Impakt guys have done by keeping it alive! There are a number of guys around here that are the same age as me, and or from the same part of Southern California/Valley,etc.... they keep me coming back here again and again; Big Fire, Mongoosenick, canogapark, Dirty, 1966bmx, DAN, Spike, bmx2112, SHADESSEAN, cycleostomy,Felix26. For freestyle Brian P is at the top of my list, chromey not to mention his killer graphic work. Woody and Alvin. Then there is a slew of solid members with a range of collections, styles, skills. Guys that support the site and keep it breathing; Richard Vogt, MelvinsArmy, Keep It Warm, lbroose2, wagonguy,Planet-X, SEADOIT, williwoods, smokin endo, todzilla, bennyt, getset, NYcet3, BMXROB, COASTY, koho jones <-- what great name for a racer. My dumpster diving buddies and track cert pals; BMX Bandit and all the others. Frozen pals to the north I Am The Owl, and Bravoleader, Psycho and Roger here in town for locals. Kerry. Every board, town, group of friends, etc. needs a Kerry. No Kerry = No Fun. All the admins here do an amazing thankless job. Spur, you do a fantastic job of keeping the mid school alive, and you also keep the pedals moving on this message board. Solid. Brothers is the master composer of one of my favorite places online. We couldn't find a better person to bring us all together. I also appreciate the pioneers, inventors, the guys who made the bikes, parts, and gear. The guys who put on races, took photos, wrote in mags,etc.
Almost done, but there are 4 members who have really helped me out along the way in my collecting. Super great, helpful, and generous to the core. 1. Monster-Robot 2. Contender 3. Mongoosedrummer 4. dayride. Thank you! I know I missed a couple of you out there, my apologies. Everybody listed above, thanks for putting up with my rants, and long winded B.S.
BMX Society: The collecting scene, no matter what you collect, has some sort of controversy. Does the constant douchebaggery of it sour you any? What are your views on the current state of BMX collecting?
RC: Well, I feel like the biggest douchebag most of the time... blowing my horn or posting something smart ass. After being the administrator on a punk rock board for 10 plus years, I'm pretty easy going. Not much will set me off or turn me off. I'm always looking for better ways to communicate our handle situations. If I don't like something, I simply don't look. I'm not above the bullshit, but I try to steer clear if possible. Douchebaggery happens everywhere in life, I wouldn't expect to see a void hereon this board.
The bullshit ratio is pretty low here compared to other sites, etc. I know it's frustrating for you and the other admins, when I and the others fan the Don Ray flames, or something else distracting from the focus of the site. I would feel the same way while I was running my site, but people will be people. Even now I'll post something on my Facebook page that I feel is important and get zero replies, then I'll post a picture of a turd with a $10 bill that my dog ate and get like 100 replies... silently I'm thinking fuck you all and Davy Jones.
Current state of BMX collecting? I guess it's just like anything people get into. There are the original people who never stopped along with the people who were smart enough to see the writing on the wall. Some of those people are gone, burnt, faded, while others have continued on... maybe actively posting now or then or put off by the next generation of collectors. I imagine BMX collecting will run it's course like anything else similar. My personal goal is to post as much historical information, material, etc. as possible for the future, whatever that will be.
BMX Society: Ron, thanks for taking the time to do the interview and sharing all these cool stories with us!