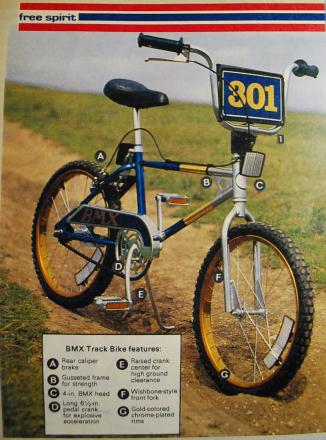 There it is in all it's mild steel glory. Straight out of the Sears 1979 wishbook. Coaster brake AND a caliper. So trick. I must have broken that gooseneck 15 times, drilling tapping and bolting it to (through) the bars to keep it from slipping, having my stepdad weld it lol.
Caught the SE bug when a weekender friend showed up from NJ with a spankin new PK in factory blue and we went riding at the local gravel pits. The contrast of those two bikes (I was allowed to take the PK for an abbreviated spin and few jumps)is still with me today. It weighed approximately 10% of the Free Spirit...
Soon, thanks to my aunt living in L.A., I was wearing a cotton SE jersey and leather ripper gloves while the bike was sporting brown/blue vinyl SE pads, PK Ripper decals, and a
brushed
on baby blue paintjob. Water-based paint from a can my mom had lying around. No SE dealers up in the stix and no grit in the bank to get one anyhow. But the seed had been planted.
Finally got a Redline Brute to replace the franken-stem and then, after saving up for a year, my MX-II F/F. So these parts mostly went onto the new F/F. I have no idea what happened to that old Sears bike but recently picked up this to clean up and pay tribute to the beginning...still has the coaster brake AND caliper.