I know a lot of us know Johnny Severin a.k.a. Johnny True Torch. Well I REALLY DIG his framesets,bars and stems.
The Webco is about a yaer or so old and the Stroker I got about 5 months ago. The Stroker was originally yellow, after looking at it for some time, I decided to have it powdered in the brightest red I could find at my local powder guy's shop.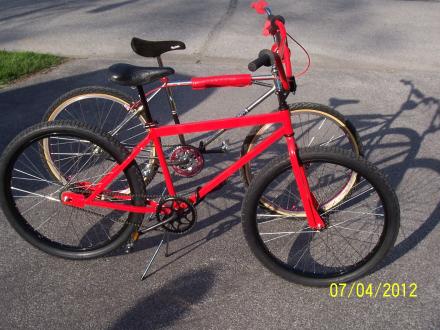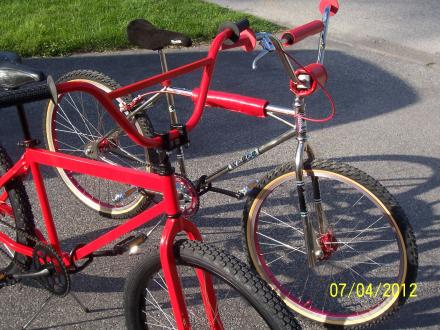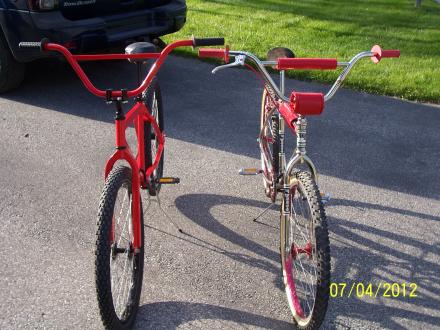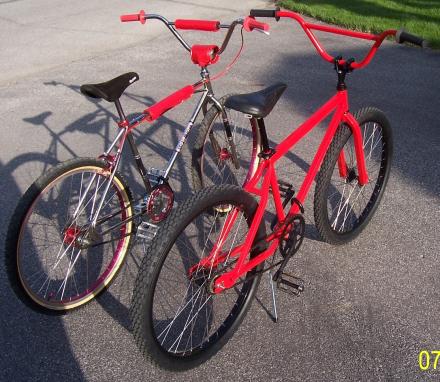 I built up the Stroker with the following parts:
Frame, Fork, Bars, Stem and seatpost are all from Johnny.
Ame Grips, Generic headset and bottom bracket.
Cranks are 7 1/2 Ashtabula's with an old sprocket I had lying around and a set of no name rat traps. Chain is a D.I.D. I found a length of it at a garage sale a few years back.
Seatpost clamp is 2 1" clamps bolted up together. Seat is an old Mesinger.
Wheels are a pair of Araya's I had powdered in Black and drilled out to accept the 105/12 gauge stainless spokes. Hubs are a Bendix large flange in black and the front is an ACS dated 77 . Tires are Cheng Shin block tires. I liked the look of them so I went with them.
It rides GREAT. Perfect for cruising the Chicago lake front.
Hope you dudes like it.