It's been a while since I have popped my head in for more than the occasional thumbs up post and I got thinking of funny stuff from my past. One of my favorite things over the years has been humor and pranks. Unfortunately I have not always been the person starting it and at times the victim but let's hear some awesome bike related pranks. New or old it doesn't matter.
Back in the day we all have great stories of hiding people bikes which always leads to interesting stories. Riding bikes during nationals and state races in the hotels, down the stairs, skidding on the rugs, and I can't say a bike hadn't made it in for family swim
.
My favorite is a prank down at Kore bikes. The background is all of the members of the "Kore Krew" whether you work there or part of the team everyone rides downhill MTB now. This prank started years ago and includes a Burt Reynolds blow up doll. The prank is Burt gets put in unsuspecting people gear bags for the "unveil" in front of everyone as we are suiting up before a ride at the base of the mountain. While I made it on the team without getting punked I guess i earned it. I did happily mount him to my car while I drove up to the resort. Picture my car with my downhill rig and Burt chained to my car pulling up. Burt even got mailed back to the shop by a past prankster as a "Happy Holidays" box to the shop for Christmas.
We were going to get my Fiance' this past weekend but Burt went missing after we tooks some pics of him riding Ailleen's bike recently.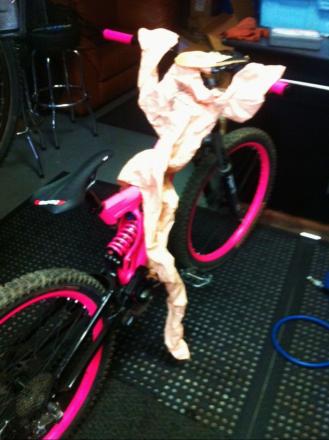 Let's hear them good bad or ugly. Extra points for old school stories.
This post has been edited by Nbl 49a: 10 July 2012 - 05:31 AM